Crete, Greece
August 15 - 22, 2019
4 Spots left!!
Join our mailing list for info on upcoming retreats HERE.
We are SO excited to invite you to the magical island of Crete in Greece! Crete is wonderful for many reasons. It's Greece's largest and most populous island and offers glorious beaches, impressive mountainscapes, great cuisine, and local Greek culture - all with half the tourism. It'll be our first time on the island with The Whole Experience and we are looking forward to hosting you in one of the most beautiful countries in the world!!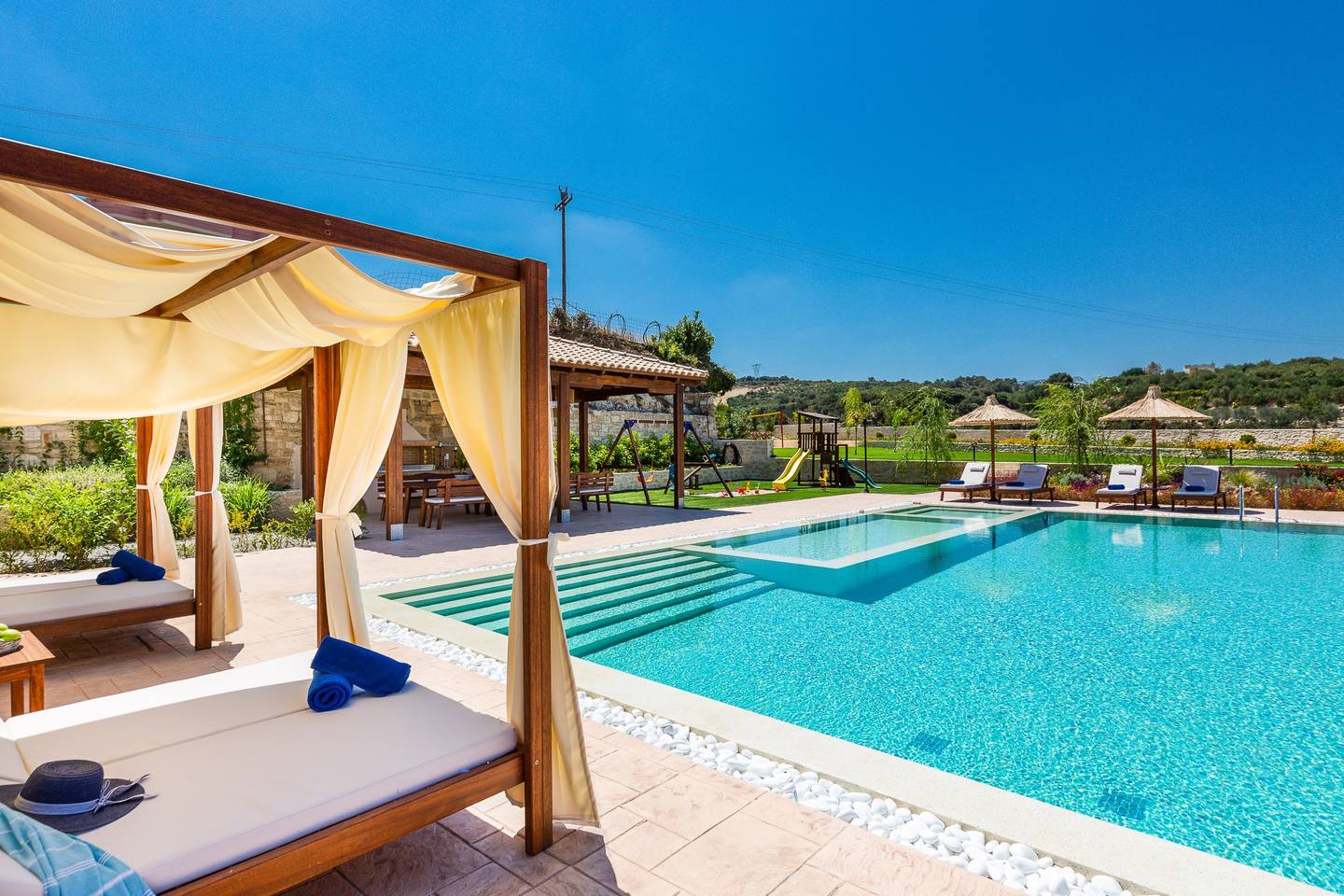 This brand new, luxurious Villa, is conveniently located in Perama Town, near Rethymno. We've secured the most glamorous and relaxing environment for you to have a week of complete relaxation. The spacious (and secluded) villa of 1000 m2 is equipped with beautiful and modern rooms, gorgeous views, a private 100m2 swimming pool, outdoor dining, ample room for yoga/bootcamps, and even comes with a basketball and volleyball court! We'll be able to enjoy all of the amazing amenities in the heart of summer!
We've secured a wonderful chef that will prepare us fresh, locally sourced, traditional Greek/Cretan vegetarian cuisine! Above is a glimpse into some of what you can expect. From delicious Moussaka, to Greek Salads, to Cretan Skioufihta, and even Kataifi (our favourite greek dessert) - your taste buds are sure to do abundant burpees out of sheer in excitement!
Health and Wellness is at the core of what we do. The Whole Experience focuses on the Mind, Body, and Spirit – our goal is to leave you feeling rejuvenated and refreshed! Tameika will get your heart rate pumpin' in her infamous boot camps, while Whitney will help you find peace of mind with yoga and meditation classes in our open outdoor space with amazing views. We'll also get outdoors and be active while experiencing nature! Our goal is to have a great blend of formal and informal training.
In addition, both Tameika and Whitney will host workshops in their respective passions to help you integrate healthy living into your everyday lives.
All levels are welcome! Both Whitney and Tameika are very experienced in working with women of all shapes and sizes!
$500 USD DOWN PAYMENT IS REQUIRED TO SECURE YOUR SPOT
*Airfare is not included in the above price
TOTAL CAPACITY - 12 TRIBE MEMBERS
TO GIVE BACK TO THE WONDERFUL COMMUNITIES THAT WE VISIT, 3% OF PROCEEDS FROM EACH RETREAT WILL BE INVESTED IN GIVING BACK TO A PARTNER FOUNDATION THAT FOCUSES ON WOMEN EMPOWERMENT, HEALTH AND WELLNESS, AND EDUCATION
Next Steps
Upon registration, Tameika or Whitney will give you a call to formally Welcome you to the Whole Tribe an go over initial steps and what to expect as you prepare for this adventure of a lifetime!
The remaining balance will be due by August 1, 2019.

To help get you ready for your trip, 3 months before you will begin to receive a monthly newsletter informing you of pertinent information.

We will invite you into a closed Facebook Group (for this trip specifically) so you can get to know your fellow Tribe members!
If you are experiencing difficulties with the registration button, click here to enrol directly on our booking site.